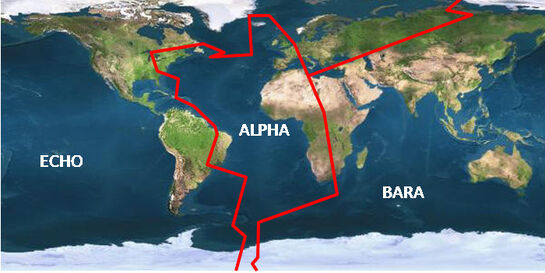 The Earth Shattering is an event strangely similar to The Shattering of Bara Magna which happened in 2010. Three chunks resulted: Alpha, Echo, and Bara.
The cause of this cataclysmic event was a buildup of energy caused by a battle between The Fallen, Magneto, and Palpatine. All three powers could not defeat each other, since The Fallen could manipulate all matter (Magneto & Palpatine), Magneto could manipulate metal (The Fallen & Palpatine's lightsaber), and Palpatine could manipulate all matter (The Fallen & Magneto) via The Force. The result was an explosion that tore the earth in three.
Chunk Alpha
Edit
Atlantic Ocean
Half of Africa
Bit of Brazil
Third of Europe
East Coast US and Canada
Half of West Indies
Bit of Antarctica
Residents
Edit
Chunk Echo
Edit
Pacific Ocean
Most of North and South America
Half of Antarctica
Most of Arctic
Half of West Indies
Northern Eurasia
Residents
Edit
Chunk Bara
Edit
Indian Ocean
Half of Africa
Most of Asia
Oceania
Australia
Half of Antarctica
Fifth of Arctic
Residents
Edit
Order of Mata Nui
Brotherhood of Makuta
Ad blocker interference detected!
Wikia is a free-to-use site that makes money from advertising. We have a modified experience for viewers using ad blockers

Wikia is not accessible if you've made further modifications. Remove the custom ad blocker rule(s) and the page will load as expected.