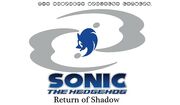 Sonic the Hedgehog: Il ritorno dell'ombra è crossover d'azione / avventura con BIONICLE e il franchise
Sonic the Hedgehog
di Sega. È impostato nell'universo Sonic primario e utilizza caratteri, alcuni elementi e impostazioni dal gioco di revisione negativo di quest'ultimo rilasciato nel 2006, ma non è correlato ad esso. È impostato parecchie migliaia di anni dopo la fine dell'intera storia di BIONICLE. Il tagline "
L'universo BIONCLE ritorna
" è stato scritto nel linguaggio matorano.    
Tracciare
Edit
Qualche tempo dopo la morte del malvagio Teridax, i Matoran, Toa, Agori e Glatorians si preparano ad andare sotto terra sotto il suggerimento del pensiero come il pianeta Spherus Magna comincia a cambiare la sua terraferma e un'organica specie dubitano che "gli umani" cominciano ad APPARIRE. Vanno una terra sapendo che il grande spirito Mata Uni non avrebbe guardato la razza Bionicle, ma anche la razza umana.
Migliaia di anni più tardi nella città di Solenna durante la preperazione del festivale del sole, Sonic e compagnia sono in visita al palazzo quando uno dei membri del gruppo apre in modo inconsapevolmente un passaggio ad una grande grotta sotterranea dove la Bionicle ha entrato migliaia di anni prima. Tuttavia Teridax, in qualche modo sopravvissuto alla sua scomparsa, risveglia e presto, gli eroi di entrambi i mondi lavorano insieme prima che il signore delle ombre possa riconquistare il potere che si è diffuso nei manufatti in cui ha posto, gli Emerald Caos  e i negozi di forza Princess Elise.  
Ad blocker interference detected!
Wikia is a free-to-use site that makes money from advertising. We have a modified experience for viewers using ad blockers

Wikia is not accessible if you've made further modifications. Remove the custom ad blocker rule(s) and the page will load as expected.